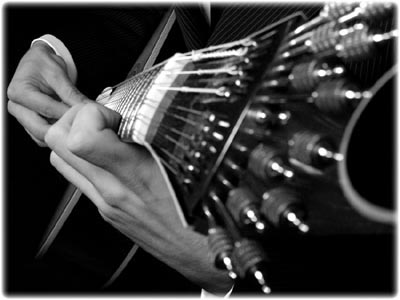 If you plan on buying a guitar you will find prices ranging from €200 to several thousands of euros.This is merely an account of the guitars I have listened/played, and I apologise to the luthiers I have left behind. You you have some extra information, please post it the comments.
Fernando Meireles has built top quality instruments played by some of the present best guitar players. He has his workshop at Associação Académica de Coimbra (student's union of the University of Coimbra) and his mobile phone number is +351 917494983.
Gilberto Grácio lives in Cacém and is the descendent of the famous Grácio luthier family. Along with the Paredes players they were responsible for many of the technological developments of the guitar during the XX century. Apart from building his own top quality instruments, Gracio started a guitar building school near Lisbon and the guitars produced there are considered to be of good quality with an intermediate price range. I do not have the contacts from Gracio or the school, but you could get there through the telephone of the local council "Junta de Freguesia de Paços de Arcos" +351 214437793.
Oscar Cardoso is also another important builder living close to Lisbon who recently developed a new guitar without bottom. In the North of Portugal one can also find Alvarinho de Castro Pereira (R. de D.Miguel,1033, S.Cosme, 4420 Gondomar).
In Coimbra, there is still a shop where you can buy a wide range of affordable guitars and it is called "Olimpio Medina" (Praça 8 de Maio nº 28). In the 50s and 60s it was the central point of distribution of the Portuguese guitar in the centre and north of Portugal.